Franbridge are proud distributors for Vater Hardware, designers and manufacturers of Elgate Fence & Gate Fittings.
Elgate provide the most advanced design innovations to give you the biggest choice of fencing solutions, all with the renowned quality, strength, durability and performance that is synonymous with the Elgate name. Elgate's range of unique purpose designed fencing products is unrivaled for simplicity and value. From our adjustable angle corners, tees and crosses, to our innovative interlocking gate hinges, and our revolutionary multi purpose fitting system, Elgate products lead the field.
Elgate Sliding Gate Hardware

Franbridge Distributors stocks all Elgate Sliding Gate Hardware and Accessories from in ground tracks, above ground tracks, in ground track support, in ground track joiner, gate travel stop, sliding guides, gate incline guide block, sliding gate catcher, gate stops, nylon guide rollers, welded gate rollers, plain rollers, sliding gate motors, swing gate motor, drive racks, tranmitters and photoelectric cells.
Fence Fittings
Elgate - Leaders in Fence & Gate Design and Innovation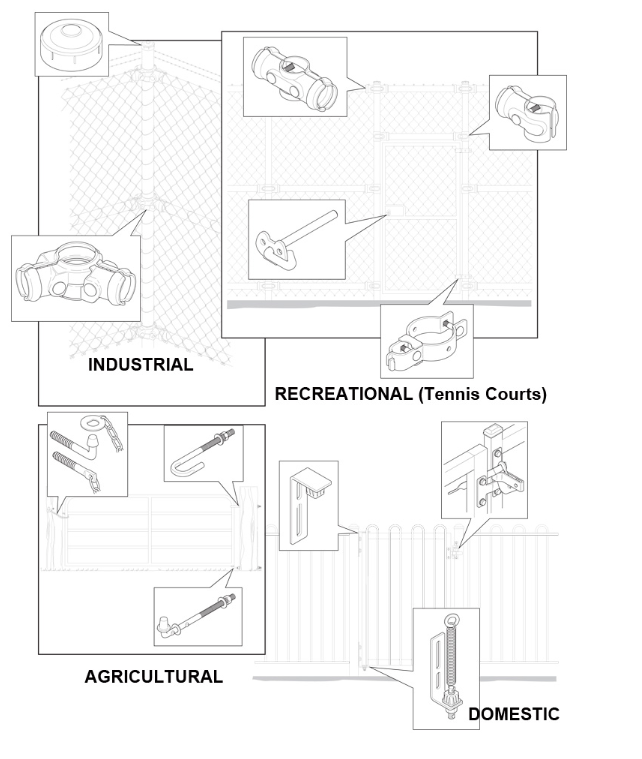 Caps and Pipe Flanges. Our gate fittings include an extensive range of Hinges, Gudgeons, & Drop Bolts and Gate Latches to name only a few.
Elgate manufacture a complete range of Farm Gate Fittings such as stock-proof Chain Latches, and screw in or bolt through Gate Gudgeons and Hinge Straps suitable for timber posts. We have a large variety of gate accessories and innovative specialty products, as well as fittings to suit Decorative and Tubular Fencing including our unique safety Pool Gate Latches and Hinges.
With over 30 years experience in the fencing and gate industry, we can help advise you on the best products.
For more information on fencing and gate accessories, please come and visit our store or feel to call us on 02 8777 0700 or fill in our enquiry form.